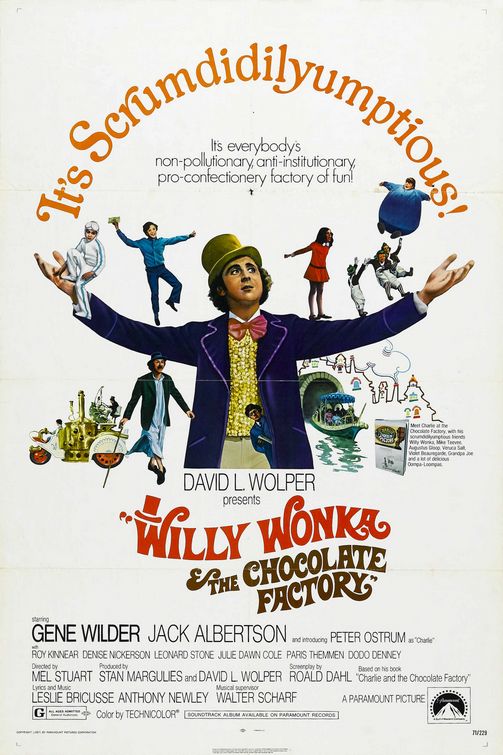 So many folks paying tribute to Gene Wilder upon his death yesterday, he was loved by his millions of fans. Being one of them, I've enjoyed Wilder's movies through the years. So many classic and funny ones. One in particular, holds a special meaning for me.
Surprise, it was his iconic Willy Wonka and the Chocolate Factory. Why? This whimsically sweet movie happened to be the very first movie that I went to see all by my nine your old self (no adult supervision!), along with my younger brother, Spence.
In those days, we lived in Jamaica, Queens. At the time, our neighborhood was a major shopping hub, and was well into the turbulent times of that volatile era. We lived a block off of Jamaica Avenue, where there were two old time movie palaces, the Loews Valencia and the RKO Alden.
After sufficient begging and pleading, my mother relented and allowed me to go with Spence to see the new Willy Wonka movie ourselves. My mother gave me the money and off we went on the adventure of our, to that point, short lives.
Successfully accomplishing our task, I was one less task needing to be fulfilled on the way to big kid land.
Interestingly enough, and I wasn't aware of this until recent years, the RKO Alden, one of my cherished local movie palaces, and where I first met Gene Wilder and Willy Wonka, began life in the late twenties as the Shubert Jamaica Theater! It didn't do very well, and after a few years it was converted to a movie theater and sold to RKO. All these years later, I find myself working at a different Shubert theater. It's funny how things work out.
At the time, Willy Wonka and the Chocolate Factory was a bit of a flop. It disappeared into the background for years, but it was always one of my favorites. Like many other movies, it was resurrected in later years with the advent of home VCRs and it went on to achieve the great popularity that it enjoys today.
It also became one of my mother's favorites, though she missed out on its initial run.
Thanks, Gene!